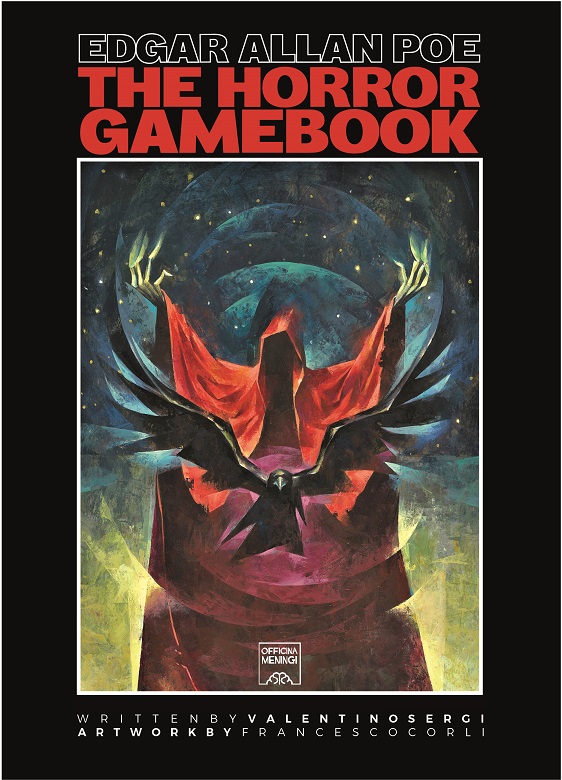 450% FUNDED ON KICKSTARTER
>> PRE-ORDER OFFER: FREE SHIPPING WORLDWIDE FOR ORDERS MADE BEFORE APRIL 20th
An illustrated gamebook that will draw you into the nightmarish world of Edgar Allan Poe, enabling you to live out of the horrors described by the master of the American short story. Through the adaptation of some of his most famous tales (The Black Cat, The Raven, The Masque of The Red Death, King Pest, The Fall of The House of Usher,The Tell-Tale Heart,The Pit and the Pendulum and more) you will gain entry into a carefully narrated, interactive experience. Labyrinthine paths and complex puzzles will bring you face to face with human fears and desires. Make your way down dark alleys, through mysterious prisons, into haunted mansions, and explore the nightmarish liminal space that divides reality from madness.
Available in two languages (English or Italian), The Horror Gamebook is written by professional boardgame designer Valentino Sergi and by professional translator Oonagh Stransky, and features many wonderful illustrations painted by Francesco Corli and Moreno Paissan.
PRODUCT DESCRIPTION
148 pages B/W
184 playable sections
8 literary adaptations
4 different endings
Many nightmarish ways to die!
THE LIMITED EDITION FEATURES
THE LUXURY DUST JACKET illustrated by Francesco Corli with The Pit and The Pendulum-inspired artwork.
THE BOOKMARK TRACKER to track your progress
THE HORROR SKETCHBOOK: a wonderful sketchbook containing concept art and pencil sketches created for this project by artist Francesco Corli.

THE BLACK, THE BLUE AND THE RED ENVELOPES: 3 letters from your avatar (extra chapters)

2 FULL COLOURS MAPS
Includes digital pack: wallpapers + .pdf + soundtrack + 2 printable maps and 3 extra letters from your avatar! (ePub and Kindle files will be automatically added by the end of april)

CLICK HERE TO DOWNLOAD THE FREE PREVIEW: A SHORT, SELF-CONTAINED GAMEBOOK INSPIRED BY THE PIT AND THE PENDULUM